*Proprietary in-vitro study.
**Clinical study under dermatological control, on 35 women,between 40 to 70 years old, at 150 mg per day for two months.
Vitamin C helps protect cells from oxidative stress and contributes to the natural production of collagen for normal skin function
Zinc helps protect cells against oxidative stress
Grapes contain antioxidants and help improve the appearance of the skin
Clinically proven

effectiveness
SkinAx²™ was tested on 35 women aged between 40 to 70 years old in a clinical study under dermatological control. After eight weeks of supplementation:
Visibly reduced dark circles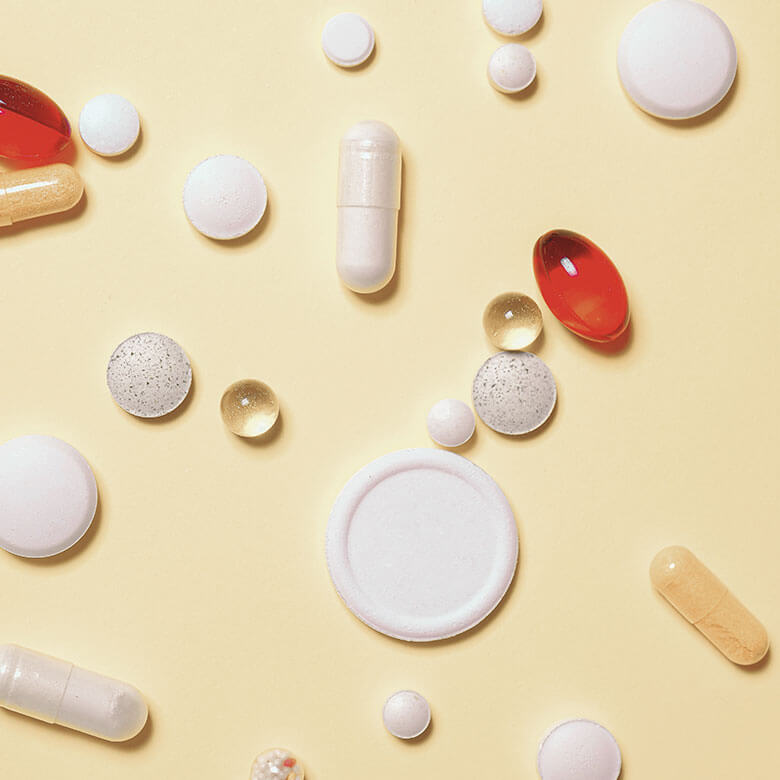 Skinax²™

, a double antioxidant action
The skin faces many external aggressions daily, which are responsible for the formation of free radicals. With age, the defense mechanism against these free radicals tend to weaken, leading to its accumulation thus contributing to the physical effects of oxidative stress : the skin becomes dull and starts to loose its luster.
In order to offer a complete protection against signs of aging, SkinAx²™ combines two antioxidants actions: primary (acting on oxygen) and secondary (acting on free radicals).
In addition to their effectiveness against oxidative stress, the ingredients in SkinAx²™ have demonstrated a synergic action to boost the natural production of collagen* by 34%.
Skinax²™

, a French affair
Skinax²™ was developed in our research laboratories in Bordeaux. Our team of scientists have rigorously selected ingredients rich in active molecules and sourced from plants cultivated in France.
Our Champagne grape seeds are particularly rich in flavanol monomers, the smallest molecule of the polyphenol family and well known for being easily assimilated by the body.
Our experts have also chose a unique variety of non-GMO French Cantaloupe melon for its abundance in SOD.
They are satisfied with SkinAx²™
of women are satisfied by the efficacy of Skinax²™
women felt prettier after taking Skinax²™
Tested under dermatological control
Clinically proven effectiveness**
Proven synergistic action of the four ingredients
Developed and produced in France
**The efficacy of SkinAx²™ has been demonstrated in an in vitro study and clinical study conducted on 35 women.
Other products

in the SkinAx²™ range
During the first 5 years of menopause, the skin loses nearly 30% of its collagen*: wrinkles deepen and the skin starts to sag.
In order to slow down this process and reduce the visibility of already present wrinkles, our experts have combined the proven collagen-boosting effects of SkinAx²™ with hibiscus extract.
Known since Antiquity, hibiscus was first cultivated in Egypt and Southeast Asia. Brewed as tea and used in many cosmetic products, dried hibiscus flowers are known to be a real beauty elixir.
*Raine-Fenning et al., 2003
City dwellers' skin are exposed to pollution on a daily basis – a factor that favors in the accumulation of toxins that alter the radiance of the complexion.
SkinAx²™ Urban Detox was formulated to combat these daily aggressions by combining the antioxidant properties of SkinAx²™ with the detoxifying virtues of wild pansy which are known to promote the elimination of toxins and maintenance of a healthy skin.
Also known as "v. tricolor", wild pansy is a plant traditionally used to treat minor seborrheic conditions. Its flowers are also used cosmetically as a beauty ingredient.